IDEA:

With two tandems to/through Southamerica - in total about 10.000km- roughly. Both kids Luke (12) and Felix (7) get thought throughout these nine months by our own. The low load capacity of a tandem is a big challenge for us. But we decided this ecological way of traveling to get a slower view to our beautiful planet and leave the smallest footprint.
We start middle of July ´11 in Salzburg. Through the Switzerland and France we get to Valencia / Spain, where we will go on board of a freight line to Buenos Aires.
In southamerica we like to cycel Uruguay, Argentinia, and Chile .
We are facing the widht of the arentina Pamp, the crossing of the Andes as well as the Atacama - maybe. The variaty of the countryside as well as of the climate might be quiet challenging.
Beside the adventure to find out more about "country" and "people" , our top goal is to spend a close and great time together with the whole family.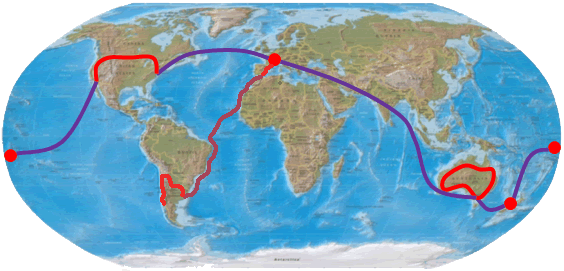 Due to so many risks are not know at the moment, there are many changes of the planned route to be expected.