With many thanks to those we met on the Road

The Gnann's (Vogtrareut 20. Juli 11)
Bereits am zweiten Tag unserer Tour waschelt es uns komplett ein. Nonstop Schuettregen bei 12°C fordern unsere nicht vorhandenen Reserven. Wie wir nach zu langen 70km gegen 18:00Uhr bei den Gnann's eintreffen sind wir richtig platt. Doch ein herzliches "Kemts eina" waermt uns mindestens so gut wie die warme Dusche sowie der leckere Tee. Die Kartoffepuffer vernichteten wir als ob wir seid Wochen gehungert haetten. Geschlafen wie Steine und am die Abfahrt am naechsten Morgen ist erst zu Mittag - cu in Salzburg !!!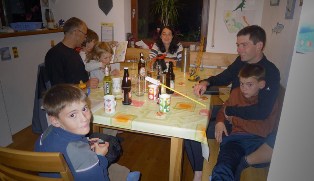 DALTON (bei Bad Toelz 23.Juli 11)
It is raining cats and dogs and we are close to "Bad Toelz". A cyclist in front of us. The first we will overtake on our tour. At the stopover at the Edeka Cafeteria we find out it is "Dalton", a guy from Sao Paulo on his trip through Europe. Thanks for your hints about the cycling conditions in South America and good luck (and better weather) on your journey. Cu in Brasil ;-)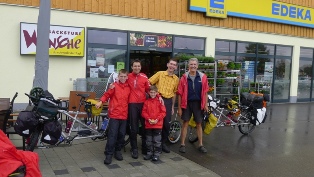 KLAUS (Bad Kohlgrub 24-26.July 11)
a rainy sunday afternoon, and the pressl-family knocks on KLAUS door. Here we are !!!
A warm smily from Klaus follows and a couple minutes later warm tea and a warm shower too.
The "Krustenbraten" was gorgeous, the relaxing night too good - so we stay another night !!
All the tanks filled up now, enough energy for the next days !!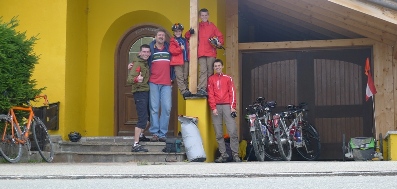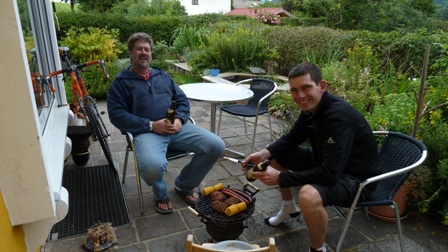 Die Reitlers (WInterthur - 31.Juli 11)
Christoph, Nadine, Alessio, ????, empfangen uns in der Naehe von Winterthur. Die Nacht verbringen wir "Penthouse", gestaerkt mit leckeren Huehnchen und noch leckerern Bratkartoffeln, verlassen wir am schweizer Nationalfeiertag die "wachsende" Familie Richtung Zuerich. Unsere Teebecher werden uns nachgeliefert. Alles Gute Euch VIER !!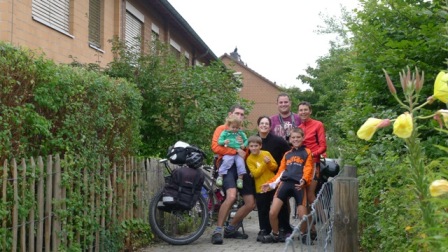 Marie-Therese / Michael - Tandemkollegen (Biel 5.Aug.11)
Ueberraschung !! Natuerlich sind wir unangemeldet ;-) Stehen einfach so vor der Tuer... Unserer Internetbekanntschaft ist erst zwei e-mails lange, dennoch werden wir mit einer Selbstverstaendlichkeit empfangen. Schlagen unser Zelt im Garten auf und plaudern ueber den weiteren Tourenverlauf und die etwas andere Fortbewegungsart- dem Tandemfahren.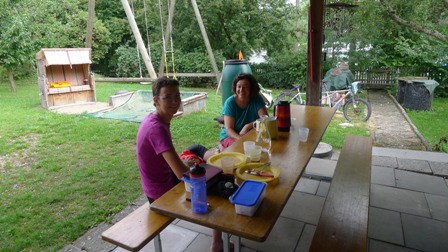 Lilian, Nick, Rans (Hans) - The Flying Dutch (to Girona 24-26.Aug.11)
When cycling up the lonely Pyrene Col we suddenly get overtaken by two touring cyclist. Nothing unusual for us in general. The two guys are Dutch, nothing unusual at all. But we meet together at the first camp in France again. The two (former)students are now in company with Lilian, a maths teacher (not to mention: dutch), who is cycling from Amsterdam to Barcelona by her own. Along the "Gruene Weg" like some more (dutch) cyclist out there. However, not just our kids had fun together with the "Flying Dutch". Have you ever heard about a special "Dutch-salad" ??? We know !!
Carlos, Carmen, Elsa - (Pineda de Mar 28-30.Aug.11)
Hola Cab?%&, Carlos !! Muy bien !!! We enjoy the luxory life of having a chair and a table. But together with the great house and the amazing bueno vista over Pineda !! Wow !! No words to explain. After 40days / 2000km on the road it is good to make a short break and check all the equipment. Is there a better place ?? Thanks for THE PLACE to be and for the rich lunch - we enjoyed a lot !!
Rody / Medina bikes - (Barcelona 30.Aug.11)
Lunch break still not finsih, but for RODY not a problem at all. Precisly our freewheel gets replaced in the cool workshop of Medina-bikes. Rody, born in Uruguay, gives us some more information about his home-country, which we should visit in a couple of months.
update 14.Oct.2011: And RODY is still pushing !! Offering his fabolous contacts in his home country !! Really helps us a lot !! Who can say to got personal support by an Olympic participant and his mother ??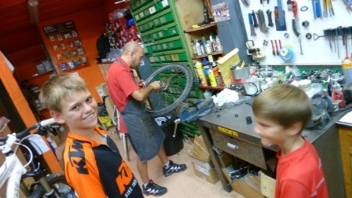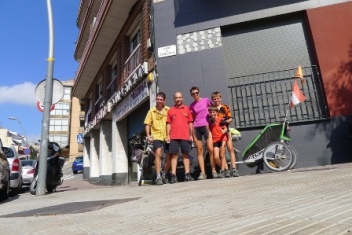 Nicolas (Ampolla 5+6.Sept 11)
Some time passed already with out meeting another touring biker, but late at night on the 5th Sept a single guy (Nicolas) arrived to the camp ground. It takes not too long to find out, that Nicolas comes from Argentinia and is on his way to Sizilia !! Thanks a lot for your hints for travelling in your home country. Hope our map guided you well through out France.

Daniel / Crazy Biker (Valencia 14.Sept 11)
Since couple of days we use Daniel as our extended (post)office. Thanks a lot for collecting all the parcels receiving from our home. Good to know that the items which were not in the parcels are easy to get in your fine shop. And thanks to "FliegFix / Bodo+Stefan", "Vaude/Wolfgang", "KTM/Fritz +TEAM" and "OMA"

ALL THE TRUCK and CAR driver (Europe 19.July-16.Sept 11)
To be honest we were expecting the worst about traffic conditions the more south/west we are coming.
We thought the Austria is the best place to cycle anyway, but....
... we found out that there are plenty of bicycle paths around (as long as you find these) and that the roads are nowhere else as narrow than at home, and nowhere else that busy and hectic. We NEVER had just one critical situation from Salzburg to Valence. There was just one time that a car driver was blasting his horn to push us- it was on the border from Salzburg to Freilassing.
Even if we were blocking the trucks behind us for minutes (because we were at one of the few narrow miles and no bike route around) there was no risky overtaking at all. Finally the trucks all overtook us and the driver had a big smile in their face and just showed the "tumbs up" for us !! Never thought, that cycling can be so relaxing in France and Spain !! Hope we will be that lucky in South America too.

Federico (MSC Geneva 16.Sept - 1. Oct. 11)
Our Italian travel mate at the freight liner trip to Buenos Aires. We learned a lot about Italian culture because of him. Now we know: that "Nutella" is Italian; that a meal is not complete without half a kilo Mayonnaise; how to operate a toaster; and that Spaghetti comes out of the tin can, but Pizza does not. Three days earlier than we did, the italian ship-ghost left the MSC Geneva in Santos, to continue his project "withoutflying". We wish ALL THE BEST to you, take care and watch out for dropping the fu%&§ng anker.
But for one point we are really jealous to him. For all the whales, dolphins, penguiens and flying octopuses he saw on our voyage ;-)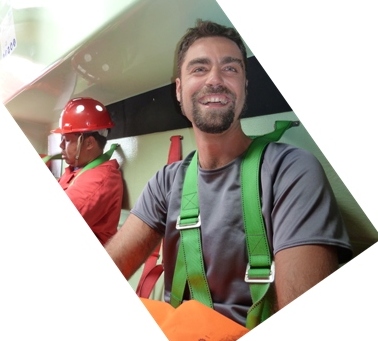 CREW MSC Geneva ( Voyage 780AR; Valencia-Buenos Aires 16.Sept - 4. Oct. 11)
We never expected such a kind and friendly welcome of all the crew. THANK YOU:
Jens Siert-Drescher, Manfred Ickert, Audie Aceres, Quarry Aguilar, Monika Okonlewska, Roman Komar, David Koelpin, Yurfy Drozd, Fernando Siez, Wencesiao Rodas, Luwyn Capacio, Bernardo Magaro, Bernardo Tengson, Librado Lungat, Alexander Guevarra, Uwe Walther, Bernardino Nuflez, Amante Iroc, Romulo Velasco, Noel Acero, Mario Basarte, Editho Gunda, Arnel Tapar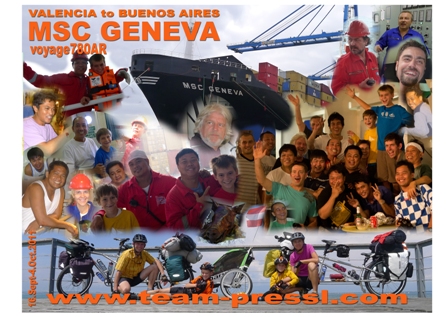 HOTEL SUIZ (Nuevo Helvecia / Uruguay 09. Oct. 11)
We have no idea where to sleep this night, so we ask at the Hotel Suiz "Gruezi - miteinander" was the answer. No problem to pitch our tent into their beautiful garden and use all the vacilities - for free.
We enjoyed the Schokofondue as well as the Apfelstrudel.


Gabriela and family (near to Santa Rosa 13. Oct. 11)
The nasty wind was blowing straight into our face. Our cruising speed not more than 7km/h - Spring time in Uruguay. No problem at all for Gabriela to host us and our tent. Nearly we got blown away in the night, but the fresh bread rolls in the morning compensated everything !! All the best for you and your new house !!
By the way, we ate the best oranges in our life.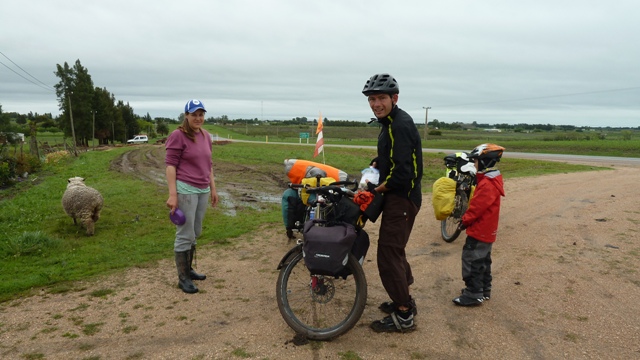 Uwe, Clara und Familie (Florida / Uruguay 15. Oct. 11)
Vertieft in der Suche nach einer frischen Gaskartusche werden wir auf Deutsch in mitten des netten Stadterls "Florida" angesprochen. Ein gemeinsames PickNick, ein leckerer Kaffee und jede Menge netter Plausch sind die Zutaten eines gelungenen Tages.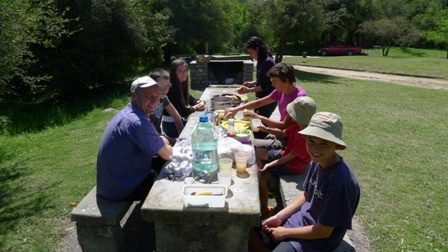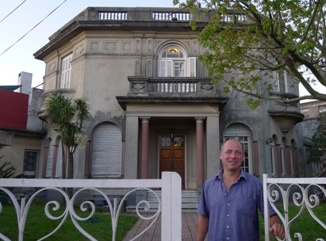 Durazno poblacion (Durazno / Uruguay 17.-18 Oct. 11)
Before even entrering the town, we were already part of it. We never had such a warm welcome of a town before.
So we had to stay two nights and enjoy the kindness of the bicycle enthusiastic people. For sure, one of the next Olympic triathlethes will come from here. We will keep you in our mind!!
Muchos grazias para grandioso tiempo !! Hasta luego en Salzburg !!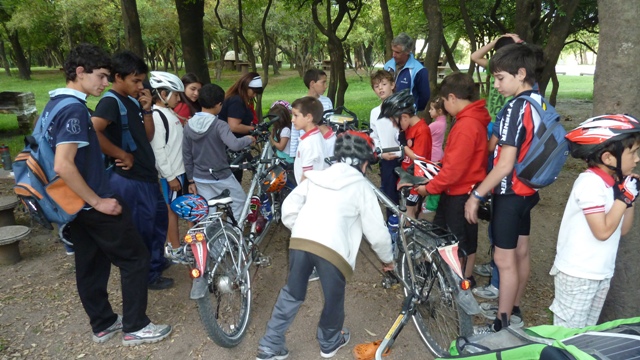 Hector (Durazno/Paso de los Toros/ Uruguay 17.-18.-20 Oct. 11)

Susanne und Didi (Paso de los Tores- Baygorria/ Uruguay 18.-25. Okt. 11)
Drei Jahr dingeln die zwei mit Ihrem gruenen Sprinter durch die suedamerikanischen Weiten. Genug Gespraechsstoff fuer die Eine oder Andere Stunde. Gemeinsam duerfen wir das Urugwaschow Rockfestival hier in Paso de Los Toros erleben. Es machte uns noch richtig Spass noch einen gemeinsam Abend in Baygorria zu verbringen, Chilenischer Wein.... Wuenschen Euch noch viel Spass auf diesen Kontinent und fischt noch viele Fliegen.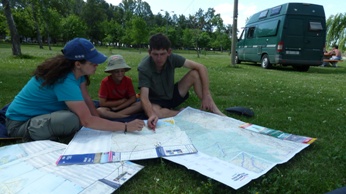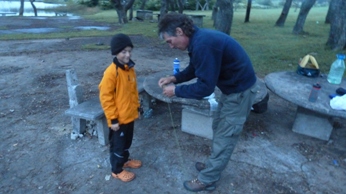 Marcos (Paysandu / Uruguay 29.- 30. Oct. 11)
Aunque hablamos basico espanol, teniemos mucho interesante tiempo con Marcos. Mucho gracias para "Bauernkrapfen" y the muy rico merienda para nuestro primero dia en Argentina.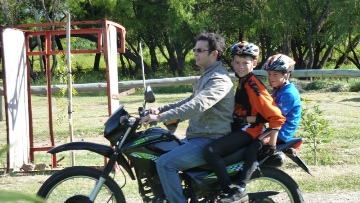 Panadarias y mas en routa (Argentina Nov.11- ....)
Que amable pan es...
MAURO and "TEAM" ( Buenos Aires 4.-6. Oct. 11)
After the relaxing time on the vessel we got kicked into the huge Metropole "Buenos Aires" Most probably we would be still there...lost somewhere. But thanks to Mauro, the city was a great experience for us. We do not know where to start and where to end... Was it the pick up from the port, the late night sightseening tour, the dinner, the playstation action,..... However, hope we get the chance to pay back one day.

THE bar (middle of nowhere/ 50km before Villaguay 31. Oct. - 1.Nov. 11)
Right beside the Ruta in the middle of nowhere, a place for our tent, aqua and a fresco cerveza - all we need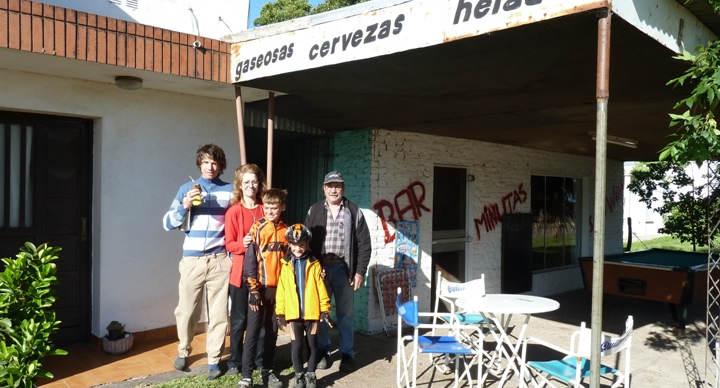 Gente en Las Tunas (Las Tunas 2.-3.Nov. 11)
A complete hall for us and our tent. Great people in Pueblo Las Tunas- and a real Torrero tambien.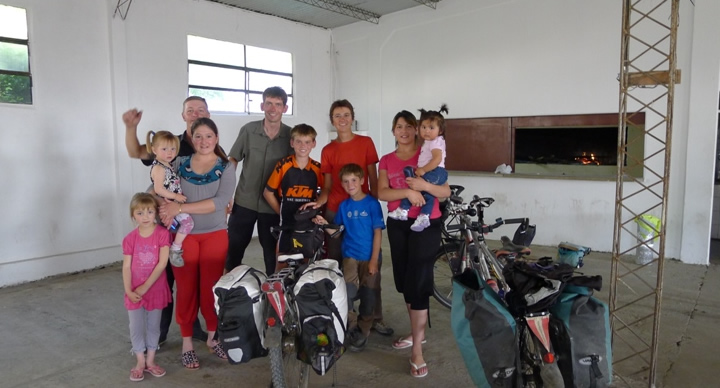 Juan (Col. Atellanes 3.-4. Nov. 11)
Unexpected we this kind camp. We are the only guests and stay for free. Great family, great time !!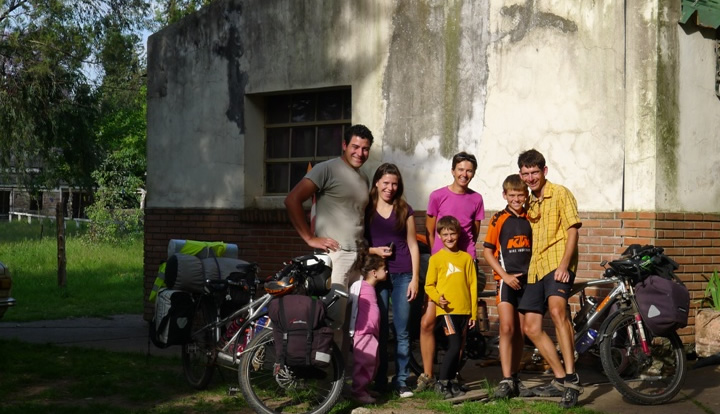 Patricia y familia (Esperanza 5.-6. Nov. 11)
The only shop open in Esperanza at the beginning of the Siesta- the carniceria. For sure we did not expect at all, that we end with our tent in the back yard finally. A great BBQ and a lot of very kind people of the whole family. A long day and busy to give all the TV interviews. We learned a lot apout the way life goes on in here and enjoyed to be a part of it at least for one day.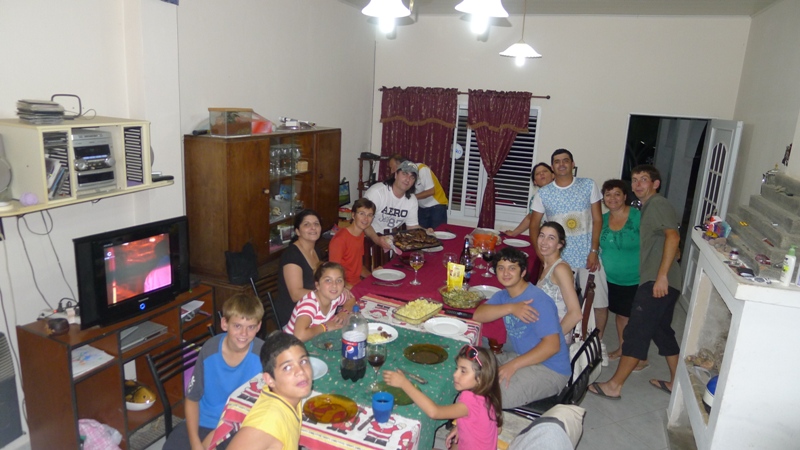 Miguel (campo before Susana 7. Nov. 11)
Siesta time on the "camino Tierra" about 10km before Susana. Miguel stops his pick up and invite us for a break at his great campo. Fresh milkout directly out of the 800liter pot as well as Salami and tasty chees. Great to see the campo which got renovated recently (in 1920)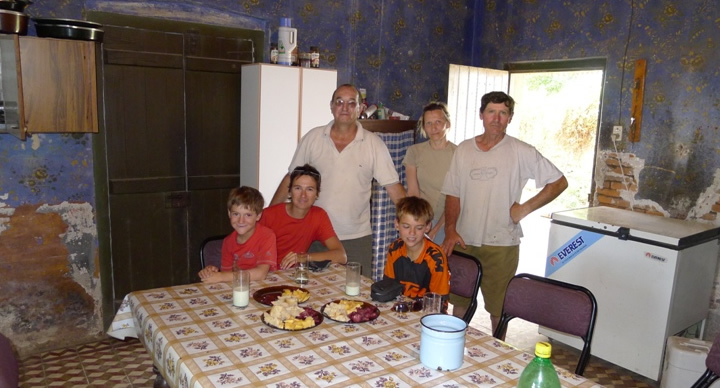 Miguel y Graziela (Roca 8. Nov. 11)
Muy amable gentes, pur cordialitad y muy divertido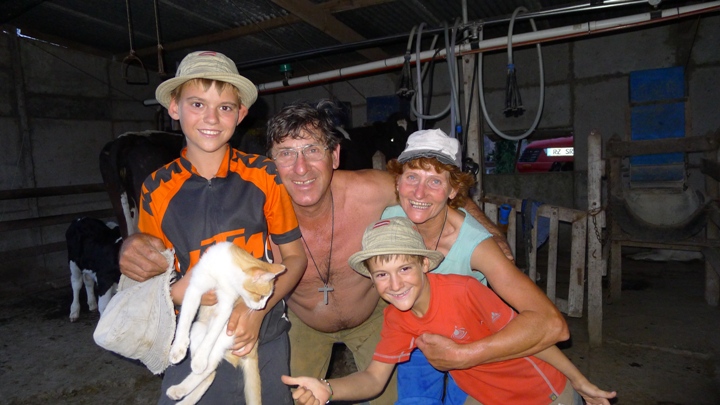 Ariel (Roca 9. Nov. 11)
Mucho gracias por bueno cocolate. Hasta luego.

Fernando, Hilda y Marina (Roca y Rafaela 12y 13. Nov. 11)
Die Zeit verliegt mit interessanten Plausch und sehr leckerem Abendessen. Wir duerfen viel von Euch lernen (z.B. wie ein Bambusfahrrad gebaut wird;-) und hoffen, dass Ihr zu Eurem 25. Hochzeitstag nach Salzburg zurueckkehrt !! Wir freuen uns schon.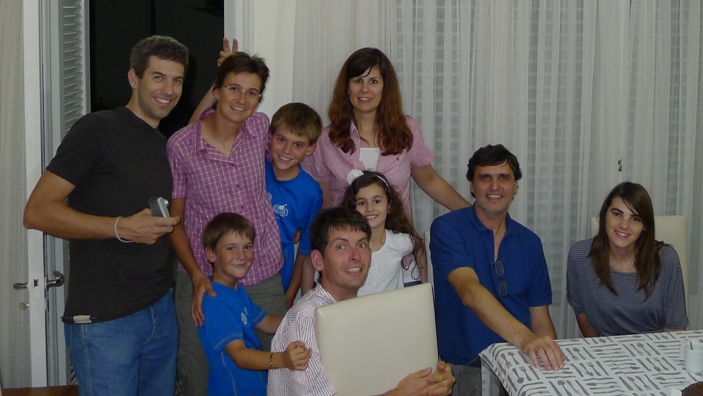 Richard und Sabine (Roca 8 bis 15. Nov. 11)
Wieder einmal beschert uns Meister Zufall eine maechtige Ueberraschung und wir wissen wieder ganz genau warum wir so gerne reisen. Wir hatten die Hoffnung schon begraben, dass jemand in diesem Paradies in Roca anzutreffen ist. Doch dann... eine Herzlichkeit die sondersgleichen sucht, wird uns entgegengebracht und aus einer Nacht wird eine Woche, die wir in der "Casa RiSa" verbringen duerfen. Urlaub von unserer Reise fuer das ganze team, welchen wir in vollen Zuegen auf diesem freundlichen Stueck Erde geniessen. Besonders die kids haben "high life" und koennen sich ebenso schwer von Richard und Sabine trennen wie wir. DANKE fuer die tolle Zeit (und natuerlich die leckere Geburtstagstorte) sowie fuer die zahllosen Bestaetigungen welche wir von Euch in Vielerlei Hinsicht erhalten haben. Menschen wie Ihr, formen aus unserer Reise ein unvergessliches Erlebnis und sind die Nahrung unserer Vision.
"Machen" nicht "reden" !! Gesundheit y Suerte !!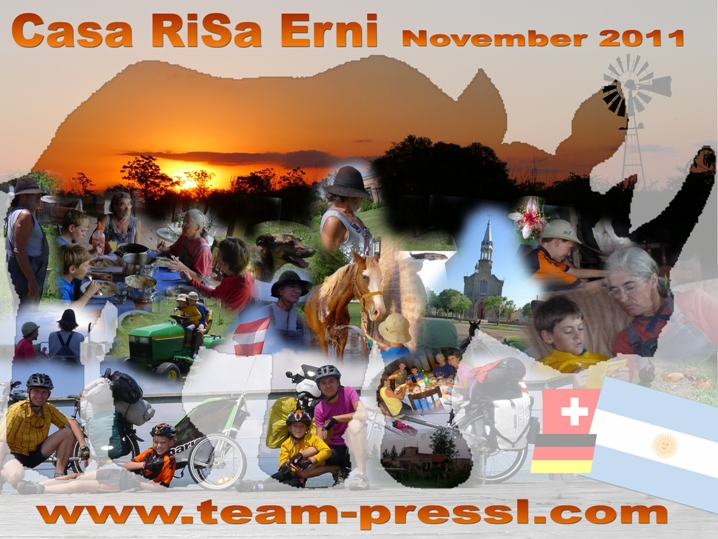 Jovenes Cooperativistas La Puerta (La Puerta 18. Nov. 11)
Gracias por en noche en casa Jovenes Cooperativistas La Puerta y interesante campeonato de futball. Una alegre interviu tambien. Gracias por corte de pelo y vine de presidente. Que bueno baile tambien. GRACIAS y suerte por La Puertas Joven !!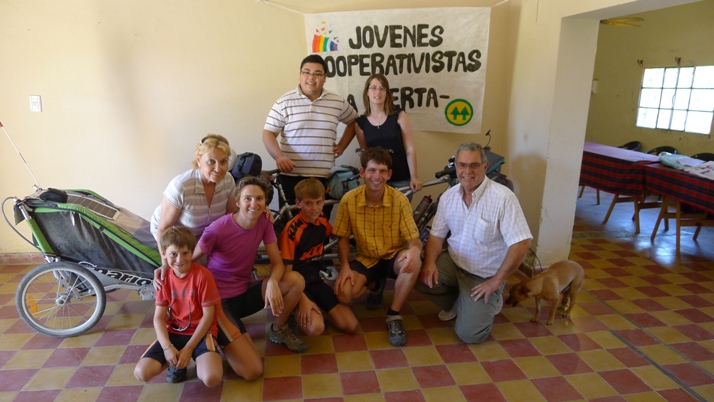 Jorge(20km a Totoral - 19. Nov. 11)
Un poco cansado, 20km hasta habitacione, proximo tormenta muy cerca y un poco problema con blando banquete.
Pero Jorge con camionetta es nuestro rescate.
....aber nicht nur hier bei uns war einiges los an diesem Tag....DANKE fuers Festl !!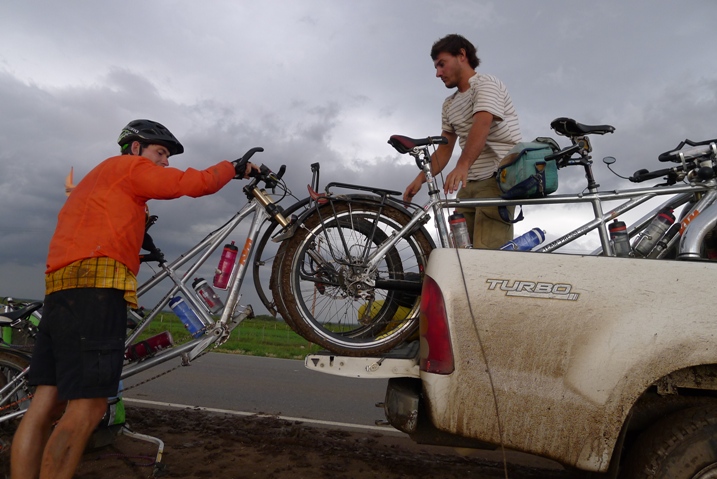 Patricia y familiy (Nono - 28. Nov. 11)
Gracias por en rico comida !!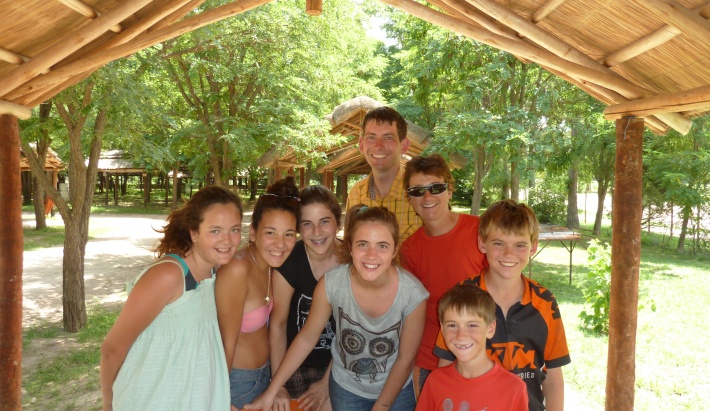 Grader Pilot (20km a Quines - 01. Dec. 11)
Fantastico macina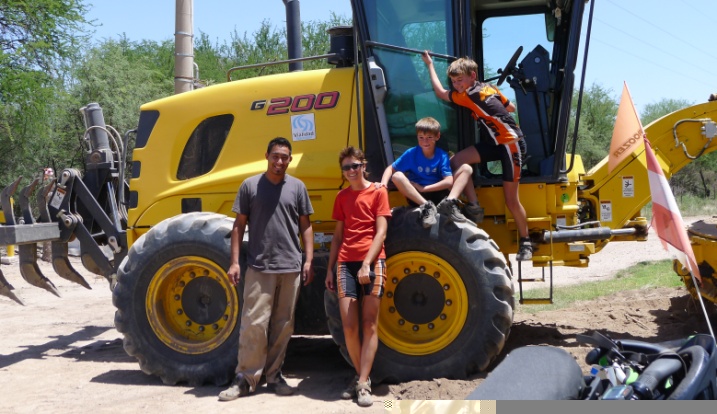 Lucas(Quines - 01. Dec. 11)
Rico Helado y bueno Boca ;-)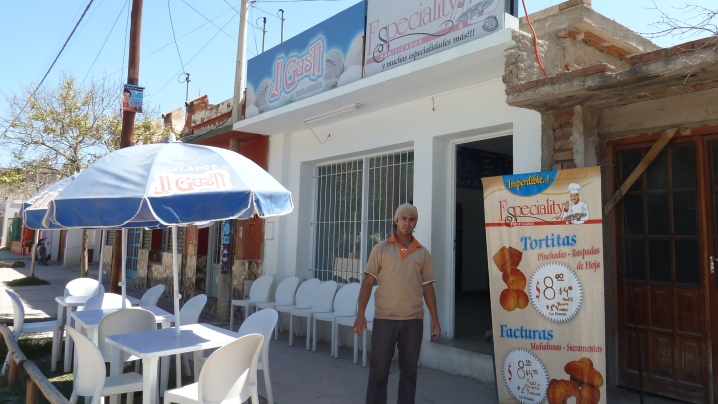 Daniel, Valeria, Nahir y Keila (Quines - 01-03. Dec. 11)
Hablo inglese ?? Bueno ;-)
We met at the lovely place "Muro", and were glad to get the invitation to your house.
Great pizza and tasty ice cream at midnight - that is the life here in Quine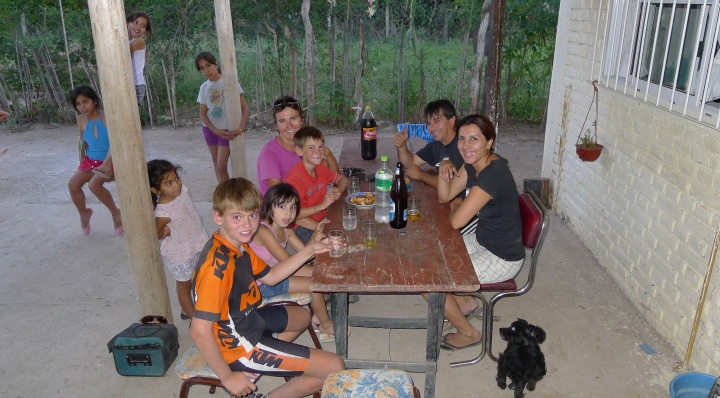 Juan THE Policia (La Tranca- 05-06. Dec. 11)
Una techa para neustra carpa - no problema con tormenta, no problma con aqua, no problema con bici ;-)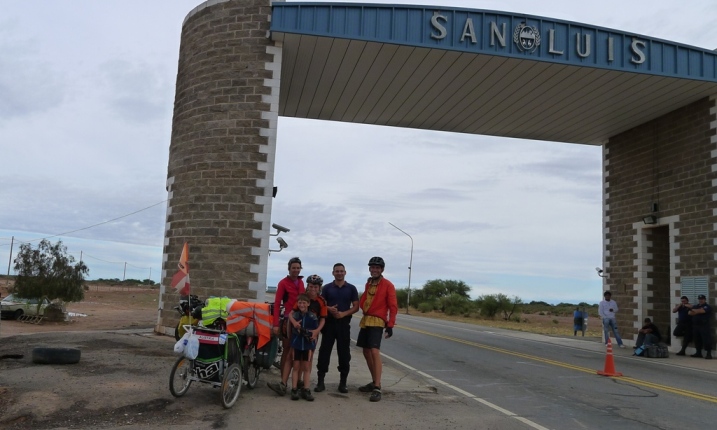 Jose, Clara y ORVIZ team (Mendoza- 10. + 13 Dec. 11)
Buena noches con nuevo colciones y importante informaciones por Routa 40.
carpa problema.
Bueno camping tienda !!!!

Pablo, Enrico y todo Husaberg Argentina TEAM (Mendoza - 10-14. Dec. 11)
GREAT GUYs !! Gracias por todo assistencia y bueno camisa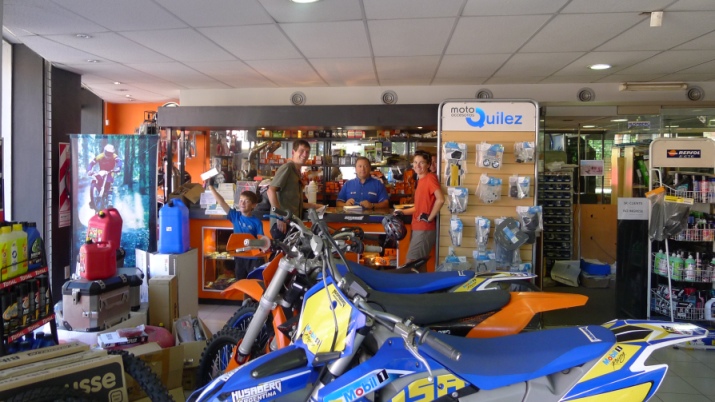 bici cataldo (La Consulta- 16. Dec. 11)
pincture numero once, una ocasion conoco bici catldo, y test slime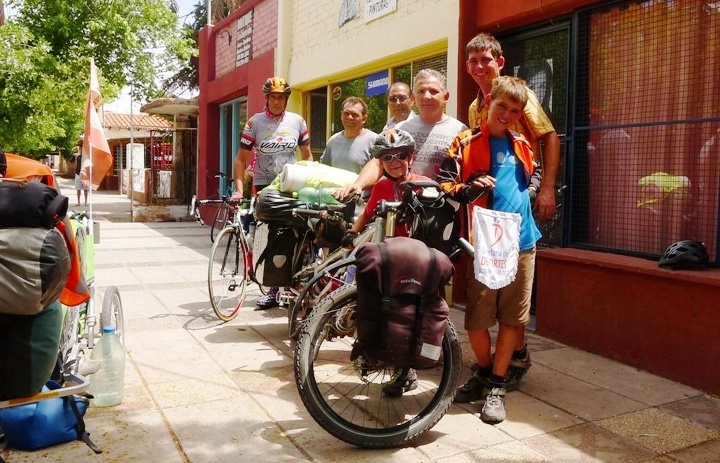 Policia Aqua los Toros (Aqua los Toros- 18.-19. Dec. 11)
bueno lugar in the middle of the though Routa 40 tierra

Parador Miguel (Sosneador - 19.-20 Dec. 11)
nuestro dia no facil. Ultimo kilometres mal viento, pero amable lugar ,suerte por tu excursiones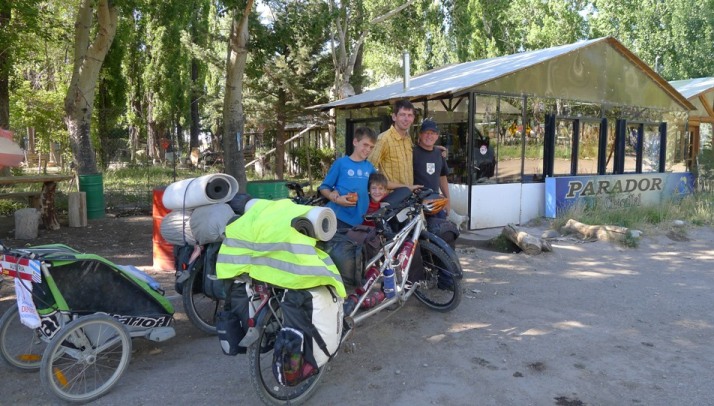 Mario, Henk, Jermias (Routa 40 -KM2983 - 20. Dec. 11)
Since months we did not meet an other touring cyclist (last was in Spain), and then we meet three at once...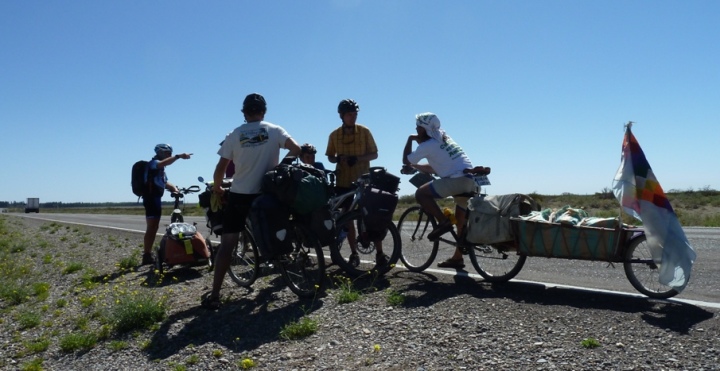 Ralph (Cascada Manqui Malal - 22.-23 Dec. 11)
un poco aqua, un bueno lugar y hermosa montanias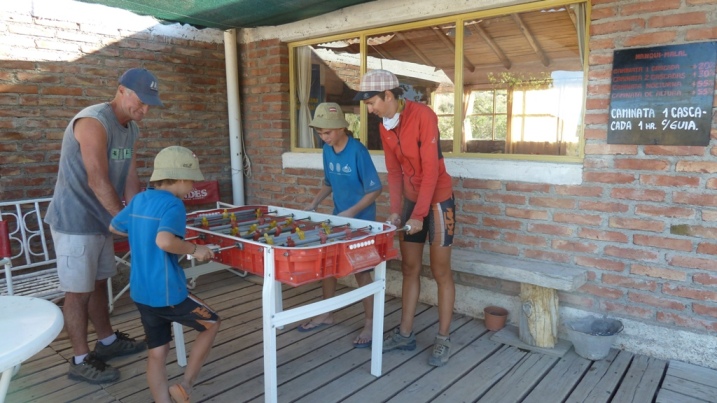 Julie and Jean Baptiste (Malagrue - 21.Dec.11 to be continued)
The kind french couple is coming down from Quito already. We share a couple of Kilometer /days as well as X-mas (incl. X-mas tree) on the amazing Routa 40. Thanks to them we found some green and water for "new-year"
Great what you did and do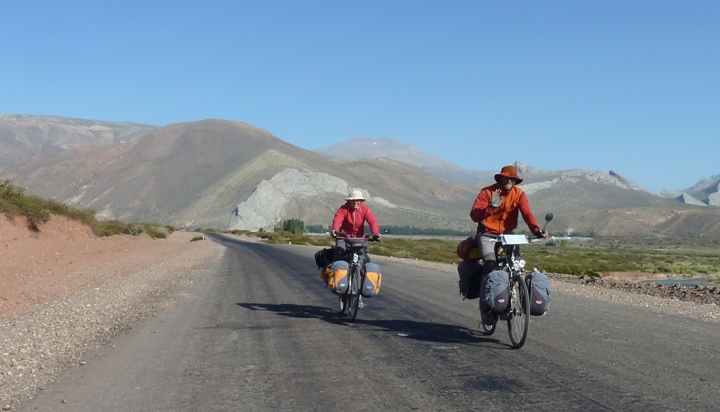 Ayelen, Santiago and family (Bariloche - 6.- 10. Jan. 12)
...wenn Du glaubst es geht nicht mehr, kommt von irgendwo ein Pick-up her !!
A tough day takes a perfect end !! Still 130km to go to the next town and in the middle of this bloody ash-storm.
Even dreaming about "home made pasta" was not easy, but a couple of hours later...feel like heaven....
...even a sightseeing tour and an empanada party the next day...and grande paella the day after... and hard to leave..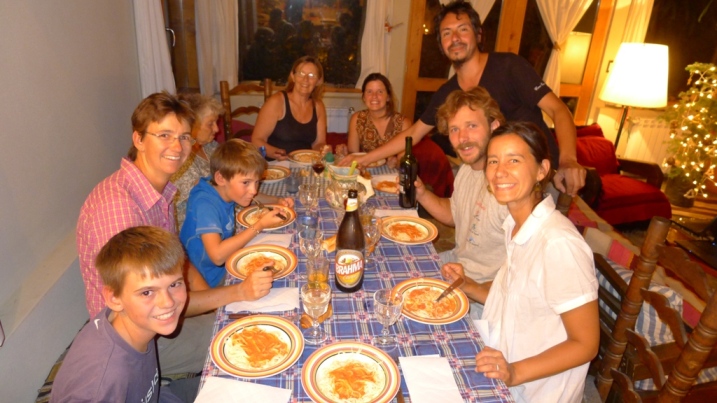 Jose y Claudio (15a Va. Amengual - 1.- 2. Feb. 12)
more than 6hours on the bike, more than 1000m climbed, raining all the day at 10 C...a nice landscape but fences everywhere and another 15km to go to the next village. Look here !! A nice wooden hut with smoke out of the dhimney...a couple of minutes later we had a warm tea in our hand and our tent a nice place....Hatten heute wieder einmal Schwein. Gut zu wissen, dass nicht alle Herzlichkeit dem Tourismus zum Opfer gefallen ist.

Eduarda y Luis y familia (15a Pargua - 12.- 13. Feb. 12)
Bueno familia, bueno luga, bueno vino,...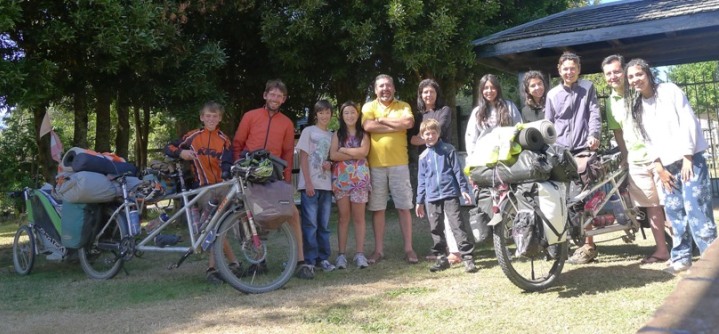 Rene y Gladys, Humberto y Olivia (approx Calbucob - 13.- 14. Feb. 12)
...wir rumpeln eine steile Schotterpiste hinab als wir auf "Deutsch" angesprochen.
Ein herrliches Platzerl, ein warmes Bad, und leckeres Fruehstueck...
Wir sehen uns in El Llolly bei Eurem gewaltigen Schulprojekt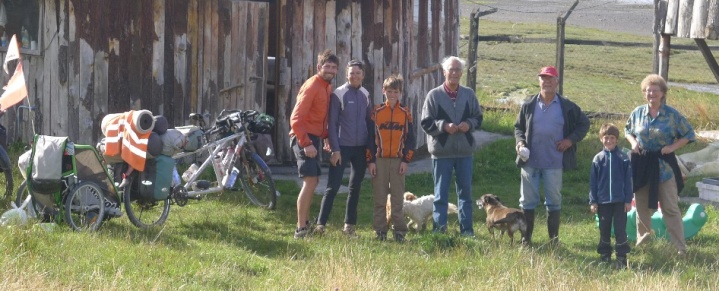 Casa Perla family (Puerto Montt - 14.- 17. Feb. 12)
...did not thought that rainy days can make that much fun. School teaching by international teacher team from good old germany and Vancouver, Lasagna cooking by the Gaudas-Marion and dish-washer Gert-Jan, desert from the states by Jenny, the kid team get completed by Solana and Frances, some bike talk with Jon, and travel talk with Bernd and Stefanie. All completed with some glases of the Chilenian red.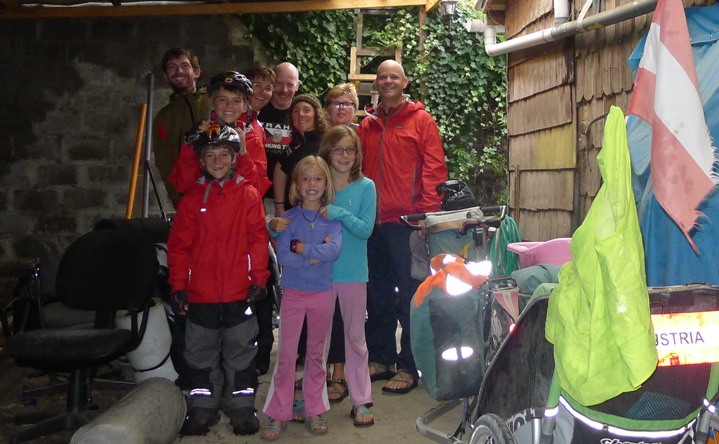 Andreas, Bernadette, Florian, Iris (Los Cascadas - 20.- 21. Feb. 12)
...die tiefen Spuren im Lava-Sandstrand fuehren uns zum schweren Geraet der vier Alpenlaendler.
DANKE fuer den netten Abend und die leckere Melone mit dem gewissen etwas ;-)
Alles Gute fuer Eure Heimreise !!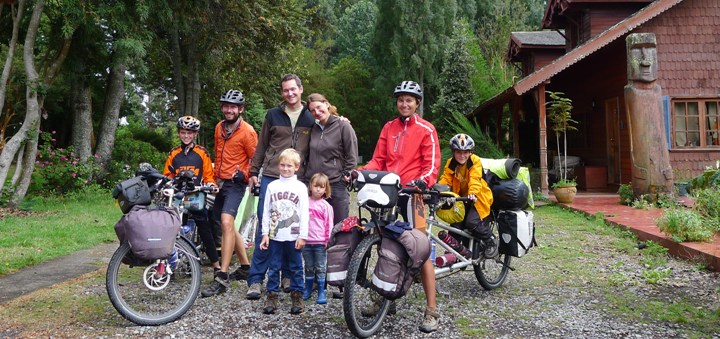 Humberto und Olivia (El Llolly / Liceo Agricola - 23.- 26. Feb. 12)
...wir folgen der netten Einladung von Olivia und Humberto und duerfen so Einblicke in das beeindruckende Schulprojekt erlangen. Gewaltig wie mit wenig Mitteln und viel Idealismus hier Platz fuer gut 200 Internatschueler geschaffen wurde. Eine Chance fuer die chilenische Jugend, kostenlos zu einer Schul- und Berufsausbildung zu kommen. Mit Hilfe von schweizer Mitteln ist eine Ausbildung in den Bereichen Landwirtschaft, Gastronomie und Kfz gewaehrleistet.
Wir geniessen die interessanten Tage in vollen Zuegen in netter Gesellschaft. Die kids haben high-life und finden schnell Anschluss !! Vom Brotbacken bis zur Kuchenverkostung...es wird nicht langweilig. Ja wir hatten wieder einmal Schwein gehabt...und hoffen Euch zukuenftig bei Eurer Unternehmung unterstuetzen zu koennen.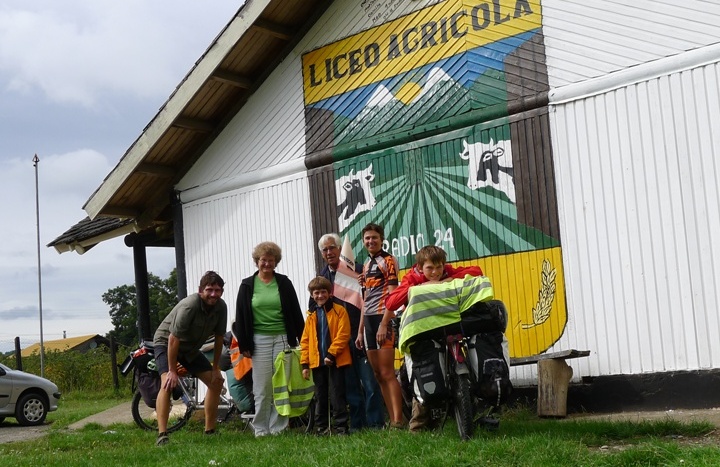 Val and Mark (near Puyuhuapi 1.Feb, between Los Lagos and Los Laureles 27.Feb- 1. March 12)
many times our paths must have crossed. Carretera Austral and the chilenian lake district- two places where we met.
Lucky we are to spend some time together with you. to be continued...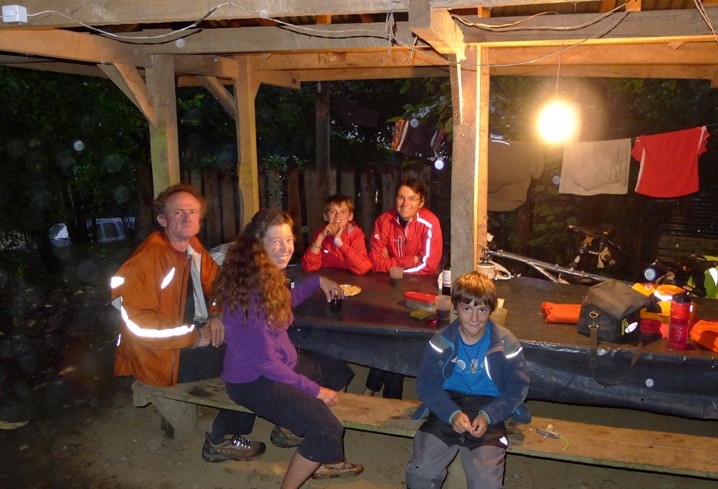 Raul, Katina and family (San Ramon/Temuco - 1.- 2. March 12)
rain drops and hunger made us stopping for Empanadas out of the oven. At that point of time we did not expect, that we will find our tent under their huge Castania tree later the day. Everything got topped by the great private conzert in the evening, and we know that you can even more....good luck for the show in September.

Doris und Manfred (Cobquecura - 8.- 9. March 12)
Unerwartet eroeffnen wir einen Campingplatz direkt am Strand. Mit Bier aus Deutschland und Wein aus Canada- Inspirationen aus aller Welt. Wuenschen Euch eine perfekte und laaange "Zielgerade"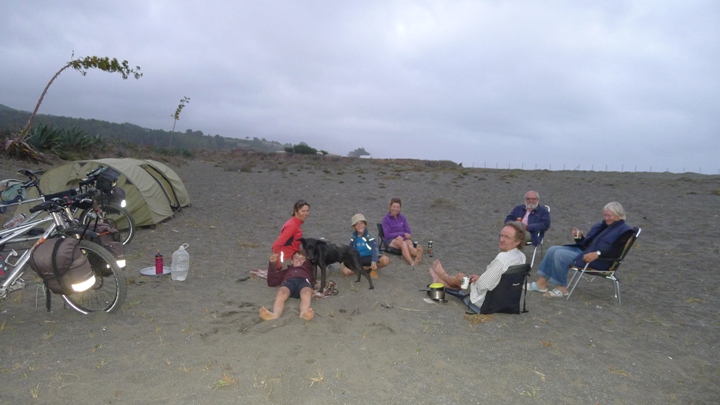 Val and Mark ....lets finish the trip (Cobquecura to Santiago - 8.- 25. March 12)
During their scenic trip to some Vulcanos and their bus trip, we speeded a bit on the chilenian Panamericana to the north. Lucky we are as we met again with "Val and Mark" at this great beach. Our timing and target is the same, like so many times in the last months - but this time we know from each other it.
It takes not long, and out of six cyclists a Austro-Canadian bike family get formed - heading steady to the north and spotting the best "places to be" while having a lot of fun.
We learned so much from the well experienced cycle-couple. Now we know, how lady-octopuses look like and how to dance with them, how to play road-apple-baseball, how to open gates, that sealions smell different to pelicans, that walking up the hill is faster than cycling, that chilenian red wine is the liquid the cyclist needs and just gets topped by "Pino sour", etc., etc., etc.....
Just one thing we were not able to learn from you: " How to say good bye " ???